Where to Stay
We have reserved a block of rooms at the Marriott within walking distance to the Durham Arts Council building. You can find info and the group registration link here.
Will there be food?
We will have light refreshments and snacks throughout the day, including coffee in the morning and an afternoon snack.
For lunch, we break into smaller groups and go to the various delicious restaurants in downtown Durham.
Dinner is on your own, we highly encourage you to continue networking with your fellow attendees.
Allergies
We make every attempt to accommodate for food allergies and preferences—specifically we are looking out for vegetarian, vegan, dairy allergies and gluten allergies.
If you have a specific request please let us know below.
What should I wear?
Wear what makes you comfortable. Typically business casual is the style of the day.
How can I volunteer?
We have some need for volunteers on both days to help make the gathering magical. Here's what a volunteer would help with:
Help with setup – moving coffee and food inside and setting up table
Working the registration desk
Attendee liaison – helping with questions and at lunchtime
Breakdown – packing up
If you're interested in volunteering please contact us below.
How do I add the workshop with Kivi?
You'll need to purchase a ticket to Create Good in order to add on the workshop with Kivi. In the check out process, after you enter your information you can add the workshop at the bottom.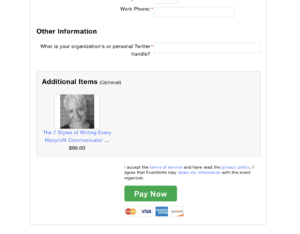 Am I registered?
You can check your registration status on Eventbrite. If you have any additional questions please contact us below.
I can't afford to attend/do you offer scholarships?
We have a limited number of volunteer opportunities available to offset the cost of a ticket. If you are interested please contact us here
Do you have a harassment policy
Yes we do. The short and sweet answer is we won't tolerate any sort of harassment or abuse towards an attendee. We will take swift action if we believe the policy has been violated.
You can see the full policy here: creategoodconference.com/harassment-policy/
If you have any questions please let us know
Where is Create Good held?
For the third year in a row we will be back at the Durham Arts Council in beautiful downtown Durham. DAC is a nonprofit working to support the arts in Durham and the surrounding area. We are proud to host Create Good with a local nonprofit.
Where do I park?
We are working to secure parking this year. Stay tuned for more information.
Accessibility
We are partnering with the Durham Arts Council again this year to ensure the venue is accessible to everyone. Please see DAC's accessibility features here: http://www.durhamarts.org/access.html
We will attempt to accommodate any needs. Please contact us below if you have any questions
How do I become a speaker?
Speakers for Create Good are mostly invite-only. We don't have an open call for speakers, but if you think we are missing out on your complete awesomeness please contact us and we'll be in touch.
Can I get a contact list of attendees?
Sorry, due to privacy concerns we won't release a contact list of attendees.
Can I get the presentations
We encourage our speakers to make their presentations available after the conference, but it is up to each individual speaker to determine if they upload their presentation.
Can I get a refund?
Up to 7 days before the conference the registration can be refunded. If it is less than 7 days before Create Good then there is no refunds.
Note: this is a limitation from Eventbrite. The refund process is automated and we can't process refunds after 7 days before the event.
Can I transfer my registration to my co-worker/friend
Yes, you can transfer your registration. Please contact us with the information below
I would like to be a sponsor
Yay! We'd love to have you in the Create Good family. Every sponsorship dollar helps make the conference and learnings more affordable. Please contact us below and we'll be in touch